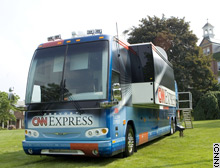 The CNN Election Express on the campus of St. Anselm College
MANCHESTER, New Hampshire (CNN) - The CNN Election Express is back. But this isn't your father's CNN Election Express. If you've been watching CNN Saturday afternoon, you've seen the bus in the background, far behind CNN's Candy Crowley and Bill Schneider while they do their stand-ups from Saint Anselm College.
But as you approach the vehicle, you can tell it's not your ordinary bus. First off, there's a satellite dish on top of it. No longer is a television live truck needed to "go live" from the bus. The CNN Election Express can do it all by itself.
As you board the bus, it's like walking into the future. The bus is equipped with state of the art equipment, from the cameras to the computers. This bus is a working newsroom, television studio, and satellite feed center all in one.
I don't want to say much more, because technology is not my forte. But get ready to see the CNN Election Express along the campaign trail from coast to coast as CNN covers the race to the White House and the battle for Congress.
- CNN Deputy Political Director Paul Steinhauser