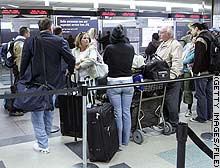 John F. Kennedy International Airport, seen in a file photo, was the target of a terrorist plot, law enforcement officials said.
MANCHESTER, New Hampshire (CNN) - White House hopeful Bill Richardson called for "enhanced" security at U.S. airports, ports, and subways, in response to news of an alleged New York terror plot Saturday. The New Mexico governor learned of the conspiracy and charges while campaigning in Manchester.
The Justice Department has charged four men with conspiring to attack John F. Kennedy International Airport by planting explosives to blow up fuel supply tanks, pipelines and buildings.
As the Democratic presidential contender visited restaurants and barber shops along Manchester's Union Street, Richardson told CNN's Mike Roselli, "I commend the administration and Homeland Security for making this arrest, we gotta be vigilant. We do have Al Qaeda that is trying to hurt our country, we should stop them in every way. I'm glad that the security procedures are working... but we've gotta have enhanced homeland security at our airports, our ports, our subways.
"We have got to be prepared because there is a threat," he added.
Richardson also told CNN that Sunday is "an important debate for me to do well," adding the format might better fit his style.
"This is a more relaxed debate. I'm going to be more relaxed," he said. "It's a longer debate, it's more free-wheeling, but it's an important debate for me to do well, because I need to break out. I'm moving up, my polls are gaining, but if I do well in this debate, I believe that I'll move into the first tier."
Richardson left Manchester for the Hall of Fame dinner in Iowa, planning to return to New Hampshire late Saturday night.
Sunday night, Richardson and his seven Democratic presidential rivals face off at Saint Anselm College just outside of Manchester, New Hampshire in a debate sponsored by CNN, WMUR, and the New Hampshire Union Leader. That's at 7 pm ET on CNN.
The Republican presidential candidates do battle at the same location on Tuesday night at 7 pm ET.
–CNN Political Desk Managing Editor Steve Brusk