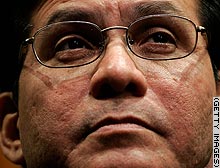 Attorney General Alberto Gonzales
WASHINGTON (CNN) — The Senate will hold a politically-charged vote Monday related to a no-confidence resolution in the embattled Attorney General Alberto Gonzales.
In a statement issued Friday, Sen. Charles Schumer, D-New York, an author of the no-confidence resolution, said if all senators followed their conscience, 'this vote would be unanimous.'"
"However, the president will certainly exert pressure to support the attorney general, his longtime friend," Schumer added. "We will soon see where people's loyalties lie."
The attorney general is under scrutiny by Congress over last year's dismissal of eight U.S. attorneys.
Schumer's statement is in reference to a procedural vote Monday on whether to proceed to a direct "no confidence" resolution.
Senate Republican leadership aides tell CNN most Republicans will vote against the motion, primarily because they view the resolution as politically motivated. Schumer heads the Senate Democratic Campaign Committee.
Last month, Sen. Arlen Specter of Pennsylvania, the ranking Republican on the Senate Judiciary Committee, predicted Gonzales would resign before facing a "substantial" no-confidence vote.
"I think that if and when he sees that coming, that he would prefer to avoid that kind of an historical black mark," the Pennsylvania senator told CBS' "Face the Nation" on May 20.
But a day after Specter's comments, Bush reiterated his support in Gonzales and denounced the prospect of a no-confidence vote as "pure political theater."