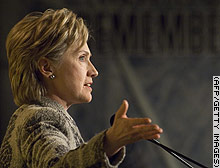 Senator Hillary Clinton, D-New York
ATLANTA, Georgia (CNN)–Senator Hillary Clinton says she will oppose ratifaction of the U.S. free trade agreement with South Korea. Clinton says the agreement would harm the U.S. automotive industry and put American jobs at risk.
"Trade agreements need to be fair if they're going to work," the Democratic candidate president said in Detroit, Michigan before a townhall meeting hosted by the AFL-CIO. "While I value the strong relationship the United States enjoys with South Korea, I believe that this agreement is inhrently unfair. It will hurt the U.S. auto industry, increase our trade deficit, cost us middle-class jobs, and make America less competitive."
From Detroit, Clinton was traveling to Iowa for some afternoon and evening campaign events.
- CNN Political Desk Editor Jamie Crawford