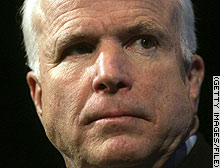 McCain says "time is not on our side" for immigration deal
ATLANTA, Georgia (CNN)– Senator John McCain said Saturday that time is running out to forge a compromise on immigration reform. "Hopefully we can come to an agreement, but in all candor, a little straight talk, time is not on our side." The republican presidential candidate from Arizona made the comments following a town hall meeting in Newton, Iowa.
"The status quo is de facto amnesty," he said. "So for us to do nothing and celebrate the fact that we stopped this legislation, then those who have a better idea can give it to us so we can consider it and move forward." An immigration reform proposal put forward by McCain, and a group of bi-partisan senators fell short of the votes needed to cut off debate in the Senate earlier this week.
His appearance in Iowa came just days after his campaign announced he would not participate in the state's GOP straw poll this August."It was a tough decision, it really was, but we intend to be in the caucuses." His competitor, former New York Mayor Rudy Giuliani, announced he was making the same move as well. Like McCain, he also intends to compete in the Iowa caucuses.
- CNN Political Desk Editor Jamie Crawford