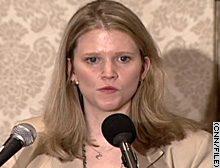 Former White House Political Director Sara Taylor.
WASHINGTON (CNN) - Both Judiciary Committees were issuing subpoenas Wednesday for former White House employees as the congressional probe into last year's firings of eight U.S. attorneys were ratcheted to a new level, multiple congressional sources told CNN Wednesday.
They are the first subpoenas issued since the U.S. Justice Department dismissed the lawyers - all but one in December.
More Justice documents also were being subpoenaed Wednesday.
The Senate panel, chaired by Sen. Patrick Leahy, D-Vermont, was issuing a subpoena to Sara Taylor, former White House political director and a key deputy to Karl Rove, the top political adviser to President Bush. She resigned a few weeks ago.
The House Judiciary Committee, chaired by Rep. John Conyers Jr., D-Michigan, was subpoenaing former White House Counsel Harriet Miers.
The committees have tried, with no success, to get Rove to testify at the hearings on the investigation.
A statement issued by White House spokesman Tony Fratto said: "We are aware of the judiciary committees' plans to issue subpoenas. We will respond appropriately. The committees can easily obtain the facts they want without a confrontation by simply accepting our offer for documents and interviews. But it's clear that Senator Leahy and Rep. Conyers are more interested in drama than facts."
- CNN's Dana Bash and Ted Barrett