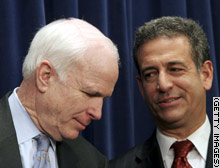 "Issue ads" were restricted under a 2002 law sponsored by Sens. John McCain, R-Arizona (left), and Russ Feingold, D-Wisconsin.
WASHINGTON (CNN) - The Supreme Court on Monday swept aside part of a campaign finance law dealing with "issue ads."
The ruling could mean a greater role in the 2008 presidential campaign for advocacy groups, corporations and labor unions, which air the commercials in the weeks before voters go to the polls.
In a 5-4 ruling upholding an appeals court decision, the high court's majority concluded the specific guidelines for the issue ads - aired mainly on television - were overly restrictive.
- CNN Supreme Court Producer Bill Mears