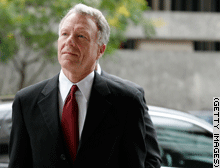 I. Lewis "Scooter" Libby.
WASHINGTON (CNN) - A federal appeals court Monday rejected former White House aide Lewis "Scooter" Libby's request to remain free on appeal after his March conviction on federal charges stemming from the leak of a CIA agent's identity.
Libby, once Vice President Dick Cheney's chief of staff, faces a 30-month prison term after being convicted of perjury, obstruction of justice and making false statements to federal agents probing the 2003 exposure of CIA agent Valerie Plame Wilson, whose husband had become a critic of the war in Iraq.
A three-judge panel of the District of Columbia Circuit Court of Appeals found Libby has not raised a question for judges "that is 'close' or that 'could very well be decided the other way'" - the standard for remaining free on appeal.
Barring further appeals, Libby's term will start when the U.S. Bureau of Prisons decides where he will serve his time and sets a date for him to surrender. But his lawyers may appeal Monday's ruling to the U.S. Supreme Court, which rarely intervenes in these kinds of cases.
Chief Justice John Roberts, who oversees the D.C. circuit, would decide whether to send any emergency petition to the full court.
Libby was convicted of lying to a grand jury and to investigators seeking to trace the leak of Wilson's identity, but not with disclosing her name itself.
Wilson was exposed as a CIA operative in a July 2003 column by Washington pundit and former CNN contributor Robert Novak, who cited two "senior administration officials" for the information. Those officials - later identified as then-Deputy Secretary of State Richard Armitage and Karl Rove, President Bush's top political adviser - cooperated with the investigation and were never charged in the leak.
At trial, special prosecutor Patrick Fitzgerald told the jury that Libby's actions left "a cloud over the White House" by obstructing the leak probe.
Wilson had worked in the CIA's counter-proliferation division before the invasion of Iraq. She told a congressional committee in March that the disclosure effectively ended her career and endangered "entire networks" of agents overseas.
The CIA had asked her husband, former U.S. Ambassador Joseph Wilson, to go to the African nation of Niger in 2002 to investigate claims that Iraq had sought to obtain uranium ore to restart its nuclear weapons program, then shuttered under U.N. sanctions.
The claim was part of the Bush administration's case for the March 2003 invasion of Iraq. But after the invasion, when U.S. forces were finding none of Iraq's suspected weapons programs, Wilson said he had returned to the United
States and told the CIA that the report was dubious.
The Wilsons have filed a civil suit over the controversy, arguing that White House officials - including Cheney - conspired to blow Valerie Wilson's cover in retaliation for her husband's criticism. The officials named have denied the allegations.
- CNN's Paul Courson and Bill Mears contributed to this report