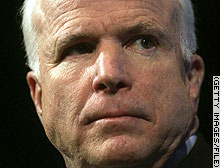 This is McCain's sixth trip to Iraq.
WASHINGTON (CNN) - Arizona Sen. John McCain arrived in Iraq on Tuesday and met with Prime Minister Nuri al-Maliki, an official with the U.S. Embassy in Baghdad told CNN.
On the first day of his trip, McCain, who is traveling with South Carolina Sen. Lindsey Graham, with met with Multi-National Forces officials in Anbar province. McCain told reporters about his anticipated trip last Friday, saying that he "would rather spend the 4th of July with the men and women in Iraq than anywhere else in the world."
McCain received heavy criticism during his last trip to the war-torn country in April after saying that he felt safe walking around an outdoor market in Baghdad. He later apologized for the comments.
This is McCain's sixth trip to Iraq.
–CNN Associate Producer Lauren Kornreich