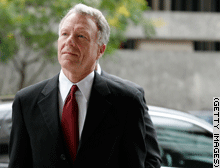 Libby paid his $250,000 fine Thursday.
WASHINGTON (CNN) - A quarter-million dollar fine that Lewis "Scooter" Libby paid Thursday was the most substantial element remaining from his conviction in March on federal charges that included perjury and obstruction of justice.
President Bush on Monday commuted Libby's 30-month sentence, and in light of that, the trial judge says he does not know whether Libby must still serve supervised probation. In addition, Libby had been ordered to serve 400 hours of community service, not yet specified, and the status of that also is unclear.
Bush declined to set aside the $250,000 fine imposed by U.S. District Judge Reggie Walton, who had been adamant that Libby serve time for lying to investigators looking into the possible leak of classified material dating back to 2003.
A court document filed Thursday shows Libby obtained a cashier's check Monday, the same day as Bush's decision to keep him out of prison. The check, drawn on a bank near Libby's home in McLean, Va., includes the quarter-million dollar fine and the court's special assessment of $400.
The court's receipt is dated Thursday, and includes a photocopy of the check filed in the public record of the case.
Walton has asked Libby's defense team and prosecutors to file documents by July 9 with their positions on how he should handle the probation matter. In his order, he wrote that the clemency law Bush used in commuting Libby's sentence does not address how to establish post-confinement probation for someone who hasn't been behind bars.
- CNN Producer Paul Courson