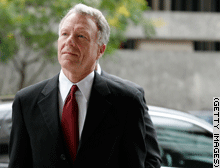 A majority of Americans disapprove of Libby's commutation, according to a new poll.
WASHINGTON (CNN) – A majority of Americans and nearly half of all Republicans disapprove of President Bush's commutation of Lewis "Scooter" Libby's 30-month prison sentence, according to a new American Research Group poll out Friday.
Fully 64 percent of all Americans and 69 percent of voters said they disapproved of the commutation in the new poll. Broken down by party affiliation, 76 percent of Democrats, 47 percent of Republicans, and 80 percent of Independents said they disapproved.
Meanwhile, 84 percent of all adults and 84 percent of voters said they oppose a full presidential pardon for Libby. Broken down by party, 82 percent of Democrats, 70 percent of Republicans, and 97 percent of Independents oppose a pardon.
Defending his decision to grant Libby clemency, Bush indicated on Tuesday he hasn't ruled out granting the former White House aide a full pardon.
"I made a judgment, a considered judgment, and I believe it's the right decision to make in this case. I stand by it," Bush said. "As to the future, I rule nothing in and nothing out," he said as he left a visit to Walter Reed Medical Center.
Libby's prison time was imposed after a federal court convicted Libby of perjury, obstruction of justice and lying to investigators in the probe of the leak of the name of a CIA operative.
A commutation is distinct from a pardon, which is a complete eradication of a conviction record and makes it the same as if the person has never been convicted.
The poll, conducted on July 3-5, interviewed 1,100 adults and carries a margin of error of plus or minus 3 percentage points.
- CNN Political Researcher Xuan Thai