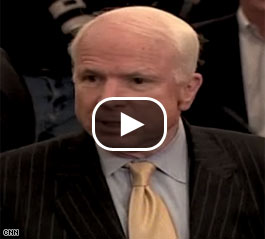 McCain said Friday he is confident he will win the GOP nomination.
WASHINGTON (CNN) - Despite a shrinking staff and nearly depleted funds, Sen. John McCain said Friday his presidential bid is still headed to victory.
"We go to the town hall meetings, we fix our financial difficulties, and we win," the Arizona Republican told reporters while campaigning in the crucial primary state of New Hampshire. "I am very confident; you can see the response you get here today from the people in New Hampshire."
The GOP presidential hopeful also brushed aside suggestions he no longer has adequate recourses to compete in the early primary states after several key staff members departed following bleak second-quarter fundraising numbers and excessive spending.
"We've always had relatively small staff and we've never been able to compete on money. We'll win the same way we almost won in 2000," the Arizona Republican told reporters.
Asked about possible misspending by campaign staffers, in light of his years railing against misspending by Congress, McCain said, "When I see mistakes, I correct them."
McCain also acknowledged his stances on some of the most controversial issues have dogged his campaign. "My position on immigration was obviously not helpful with the Republican base," he said. McCain was among a bipartisan group of senators that worked out compromise legislation aimed at overhauling U.S. immigration laws. The bill was ultimately defeated in Congress, partly because many conservatives rallied against it, arguing it offered "amnesty" to illegal immigrants.
He added, "I think my position on the war in Iraq has obviously at least not been helpful with independents."
McCain has been a very public advocate of keeping U.S. troops in Iraq.