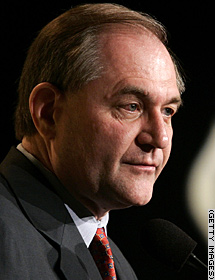 Former Virginia Gov. Jim Gilmore
WASHINGTON (CNN) - Citing a late start and a front-loaded primary calendar, former Virginia Gov. Jim Gilmore announced Saturday he is dropping his bid for the 2008 Republican presidential nomination.
Gilmore said in a statement that his short-lived campaign "has been a positive and rewarding experience for me, for my family, and for my supporters," but he also expressed frustration with today's nomination process.
"I have come to believe that it takes more than a positive vision for our nation's future to successfully compete for the Presidency," he said. "I believe that it takes years of preparation to put in place both the political and financial infrastructure to contest what now amounts to a one-day national primary in February."
Approximately two dozen states have either moved or are considering moving their presidential primaries or caucuses to February 5, 2008.
Gilmore says he plans to form a state political action committee to support local Republican candidates in Virginia and also hinted at seeking office again in the future.
"I will be actively looking for other opportunities to continue in public service in the Commonwealth of Virginia," he said.
He began his presidential campaign in January.