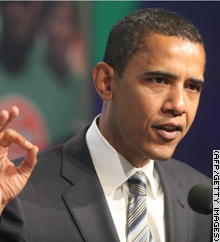 Obama addressed youth violence on Sunday in Chicago
(CNN)–Senator Barack Obama says the hip hop community has a role to play in stemming youth violence. "I don't think that the hip hop community is responsible for youth violence, but I think they haven't fully stepped up to the responsibilities to change the attitudes among youth."
Obama made the comments on Sunday to local reporters in Chicago.
"I think that the hip hop community musicians have such sway over our young people. That's where so much of their information is received." the Democratic presidential candidate said. "There's enormous potential for a positive message to be transmitted. There are a whole series of messages that could be sent to our young people and these rap artists, and hip hop artists they're creative enough that they can communicate that message in a way that will appeal to young people, so we just have to tap that creativity."
Earlier in the day, Obama addressed a church audience on Chicago's south side regarding the issue of youth violence.
He also planned to address a forum sponsored by the American Association for Justice, a trial lawyer's group, also in Chicago. Sens. Hillary Clinton, Joseph Biden, along with New Mexico Governor Bill Richardson, and John Edwards were also scheduled to address the group on Sunday as well.
- CNN Political Desk Editor Jamie Crawford