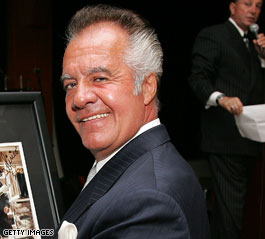 Actor Tony Sirico of "The Sopranos" gave to Giuliani last quarter.
WASHINGTON (CNN) - Celebrity donors. You know they're out there. But finding them in those Federal Election Commission reports buried among tens of thousands of celebrity-impaired Americans can be a royal pain in the Oscar.
But we at the CNN Political Ticker have painstakingly reviewed the latest batch of presidential fundraising disclosures and have compiled that information in convenient list form, complete with bullet points.
Click below for The Ticker's list of celebrity donors.
HILLARY CLINTON (D)
* Ruby Dee, actress: $250
* Danny DeVito, actor: $2,300
* Fran Drescher, TV's "The Nanny": $2,300
* Joely Fisher, actress $4,600
* Tom Hanks, actor: $2,300
* Ed Helms, actor, "Andy Bernard" in NBC's "The Office": $250
* Sharon Lawrence, "NYPD Blue" co-star: $1,000
* Tobey Maguire, actor $4,600
* Marla Maples, actress: $1,000
* Paul Newman, actor: $4,600
* Rhea Perlman, actress $2,300
* Pauly Shore, actor $1,000
* Ben Stiller, actor $6,900 ($4,600 is the legal limit)
* George Takei, actor $1,000
* Lily Tomlin, actress $2,000
* Rita Wilson, actress $2,300
* Joanne Woodward, actress $4,600
CHRIS DODD (D)
* John Lithgow, actor: $1000
* Christy Romano, actress, singer, voice of "Kim Possible": $300
JOHN EDWARDS (D)
* Oliver Stone, director: $500
* Mary Steenburgen, actress: $2300
* Ben Stiller, actor: $4600
* Peter Coyote, actor: $1054
* Sharon Lawrence, actress: $1000
MIKE GRAVEL (D)
* Mark Ruffalo, actor: $700
BARACK OBAMA (D)
* Adam Arkin, actor $250
* Paul Dooley, actor $2,300
* Jodie Foster, actress $1,000
* Jamie Foxx, actor $2,300
* Martha Hackett, "Star Trek" actress $2,300
* Bruce Hornsby, singer $2,300
* Anna Horsford, "Amen" actress $500
* Cedric "The Entertainer" Kyles, actor $2,500
* Eriq La Salle, actor $500
* Paul Newman, actor $4,600
* Tom Skerritt, actor $1,000
* Jean Smart, actress $4,600
* Jada Smith, actress $4,600
* Will Smith, actor $4,600
* David Sutcliffe, "Gilmore Girls" Actor $1,250
* Isaiah Washington, former "Grey's Anatomy" Actor $2,300
* Joanne Woodward, Actress $4,600
DENNIS KUCINICH (D)
* Shelley Morrison, actress ("Rosario" on "Will and Grace"): $1600
* Alexandra Paul, actress, "Baywatch" co-star: $1300
* Deirdre Hall, "Days of Our Lives" actress: $1000
* Hector Elizondo, actor: $300
BILL RICHARDSON (D)
* Michael Douglas, actor: $3100
* Val Kilmer, actor: $2300
* Paul Newman, actor: $2300
* Edward James Olmos, actor: $2300
* Wendie Malick, "Just Shoot Me" actress: $500
* Steven Spielberg, director: $2300
* Kate Capshaw, actress, wife of Steven Spielberg: $2300
* Jodie Foster, actress: $1000
* Christie Brinkley, self-described as "Model/Mom/Environmental activist": $500
* Bette Midler, actress/singer: $4600
* Sherry Lansing, former film executive: $2300
* William Friedkin, director: $2300
* James L. Brooks, producer/writer: $1000
RUDY GIULIANI (R)
* Tony Sirico, actor, "Paulie Walnuts" on "The Sopranos": $1000
* Melissa Gilbert, actress: $4600