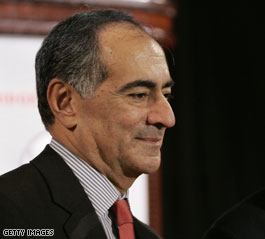 Morgan Stanley CEO John Mack is holding a major campaign fundraiser for Clinton.
WASHINGTON (CNN) - Former Bush backer and Morgan Stanley chief executive John Mack is holding a major campaign fundraiser for New York Sen. Hillary Clinton on Monday afternoon, encouraging high level managers of his Wall Street company be "involved in the political process."
"When it comes to supporting political candidates, I have always looked beyond party labels to the person who I felt was best for the job and most able to lead the country forward," Mack said in an email to Morgan Stanley executives. "I personally believe that person is Hillary Clinton."
He said that the minimum donation to attend is $1,000, but he encouraged employees to give $4,600, the maximum allowable contribution for a presidential campaign. Clinton is scheduled to appear at the fundraiser at the Morgan Stanley office in Times Square in New York City.
Mack said donating to her campaign is "purely voluntary" and encouraged employees to take part in the upcoming presidential election, regardless of who they choose to support.
Mack and his wife, Christy, announced their support for Clinton's presidential bid in April. In 2004, Mack was one of Bush's "Rangers" who helped him raise more than $200,000 during his last campaign.
–CNN Associate Producer Lauren Kornreich