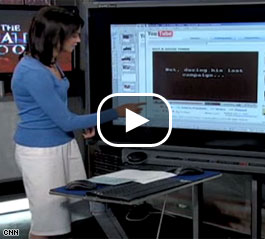 Watch CNN's Abbi Tatton report on Romney's YouTube trail.
WASHINGTON (CNN) - Already the victim of previous YouTube assaults, former Massachusetts Gov. Mitt Romney now faces a new online video that shows the GOP presidential hopeful repeatedly distancing himself from the Republican Party during his 2002 gubernatorial run.
The video, posted on YouTube Thursday by the Massachusetts Democratic Party, shows several clips of Romney tamping down his Republican affiliation and advocating for political balance.
"I lived in a place that had a one-party state that was primarily Republican. I thought, `Well, won't that be nice?' The answer is no," Romney says in one of the video's clips.
"I've been very clear, I think, to people all across the Commonwealth, that my `R' didn't stand so much for `Republican' as it does for 'reform,"' Romney is also seen saying.
Romney spokesman Kevin Madden brushed aside the video, arguing it indicates the "Democratic Party brass" view him as the "greatest threat to them in 2008."
"You know you're making great progress and you're doing things right as a good Republican when the wrong-way crowd in the Democratic Party starts attacking you," he added.
A YouTube video of Romney defending abortion rights and gay rights as a Senate candidate in 1994 received wide exposure earlier in the year. Last month, fellow GOP candidate John McCain's campaign posted a video of then-Gov. Romney in 2005 saying he supported maintaining the state's abortion rights.
- CNN Ticker Producer Alexander Mooney