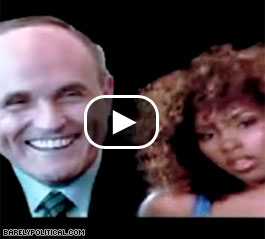 CNN's Jeanne Moos reports on a new music video pitting Obama girl against Giuliani girl. Who wins the political pillow fight?
WASHINGTON (CNN) - It's only fitting that in a summer dominated by movie sequels, the team responsible for the wildly popular "I've got a crush on Obama" online video is out with what they hope to be another blockbuster, "Obama girl vs. Giuliani girl."
The follow up from the folks at barelypolitical.com was released Monday and already has been viewed over 160,000 times on YouTube. Business was so great on their Web site that it temporarily crashed just after the new video debuted.
The video features a war of wards between the 'Obama girl' and the 'Giuliani girl,' and culminates in a pillow-fight between the two rival supporters.
Former New York City Mayor Rudy Giuliani's campaign would not comment on the new video, just as Illinois Sen. Barack Obama's campaign had no comment on the first Obama girl video.
But, as CNN's Jeanne Moos reports, while the creators of the "Obama girl vs. Giuliani girl" video say they were aiming for balance, it sure seems like Obama girls gets off most of the zingers.
Ben Relles, one of the creators of the video, brushed aside suggestions his videos are trivializing the political process, telling CNN, "I don't think it's trivial any more than the 'Daily show' or 'Saturday Night Live.'"