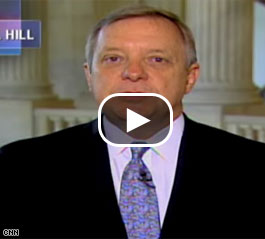 Watch Senate Majority Whip Dick Durbin tell CNN's John Roberts why the Dems are planning the all-nighter.
WASHINGTON (CNN) - Recognizing they almost certainly won't have the votes to pass an amendment to bring U.S. combat troops out of Iraq; Senate Democrats will employ a bit of political theater this week to at least draw attention to their efforts to overcome a Republicans filibuster of the measure.
Ahead of a vote Wednesday to cut off the filibuster, Democrats who control the Senate will keep the chamber open overnight Tuesday into Wednesday to highlight debate the amendment.
"They're protecting the president instead of protecting the troops," Senate Majority Leader Harry Reid complained about the filibuster.
Workmen will set up cots near the Senate floor so senators have a place to slumber – although it's not clear how many senators will chose to stay up for the rare session much less use the cots.
Democratic senators also will be encouraged to schedule radio, television, and blogoshpere interviews in a "war room" strategy usually scripted for major legislative battles in which the outcome is in doubt.
In this case, Democrats know they will fall short of the required 60 votes to end the filibuster.
Only three Republicans - Sens. Chuck Hagel of Nebraska, Olympia Snowe of Maine, and Gordon Smith of Oregon – have said they will vote with the Democrats. A fourth Republican, Susan Collins of Maine, says she's considering it. And while most Democrats support the measure, known as Reed-Levin for its authors, Sens. Jack Reed of Rhode Island and Carl Levin of Michigan, Democrats acknowledge going into the debate their effort will fail.
- CNN Congressional Producer Ted Barrett