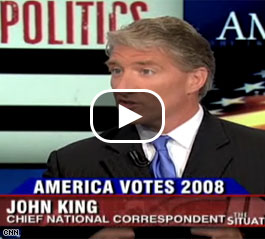 CNN's John King analyzes the latest staff resignations to hit the McCain campaign.
DES MOINES, Iowa (CNN) - Hours after her announcement Monday that she would be leaving John McCain's presidential campaign, Iowa Coalitions Director Marlys Popma told CNN that she is reconsidering her decision.
"This morning I had decided to leave," Popma said in an email. "Although since the announcement of my departure, which had NOTHING to do with Sen. McCain, as I have continued to believe that he should be our next President, I have had some discussions which have given me pause.
She added, "Therefore, I have told the campaign that [I] will take another day to reconsider my decision. I am spending time in prayer tonight [Monday] and will make a decision about my future with the campaign tomorrow [Tuesday].
"I am sorry for any confusion the earlier statement has caused."
Popma is one of two Iowa campaign members who announced their departure from the Republican senator's campaign Monday. Iowa communications director Tim Miller also called resigned, but said that he would not comment further on the matter. The departures came on the same day when almost all of McCain's press shop resigned from their posts.
- CNN Iowa Producer Chris Welch