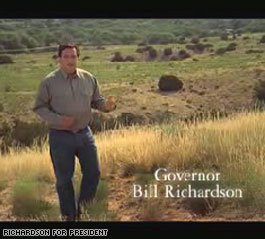 Richardson call on Congress to end the Iraq war in his latest ad.
WASHINGTON (CNN) - New Mexico Gov. Bill Richardson calls on members of Congress to "stand up to the president" to end the Iraq war, in a new television ad that began airing Wednesday in Iowa.
"Congress must stand up to a president who has put our brave military men and women in an impossible situation refereeing a civil war," Richardson, a Democratic presidential hopeful, says in the ad. "Our troops are targets - viewed as occupiers. If George Bush doesn't get them out, as President, Bill Richardson will."
Five of Richardson's rivals for the Democratic nomination are currently members of Congress – Delaware Sen. Joe Biden, New York Sen. Hillary Clinton, Connecticut Sen. Chris Dodd, Ohio Rep. Dennis Kucinich and Illinois Sen. Barack Obama.
Richardson, whose chief rivals enjoy considerably higher name recognition, has already run several ads in the early voting states - most of which promote the New Mexico governor's lengthy resume.
In the latest CNN/WMUR-TV poll conducted by the University of New Hampshire, Richardson finds himself running third at 9 percent among Granite State Democratic primary votes, behind Clinton with 36 percent and Obama with 27 percent.
- CNN Ticker Producer Alexander Mooney