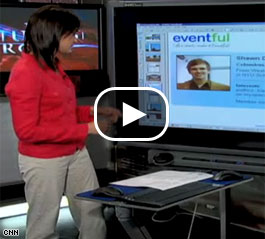 Watch CNN's Abbi Tatton report one small town may soon host John Edwards.
WASHINGTON (CNN) - The tiny town of Columbus, Kentucky might only boast a population of 229, but it's beating out mega cities like Los Angeles and Dallas for the privilege of hosting former North Carolina Sen. John Edwards for a special visit to discuss his bid for the Democratic presidential nomination.
Edwards committed to answer questions in "whatever city or town has the most demanders" on www.eventful.com, a Web site where users petition bands, artists and - increasingly - presidential candidates to appear in their hometowns.
Over 1,600 users have so far "demanded" Edwards visit Columbus, putting this rural Western Kentucky community ahead of several major metropolitan areas. They have been encouraged by former resident Shawn Dixon, who started an online push for Columbus to highlight rural communities.
"Too often rural America is left out of the debate on important policy issues," said Dixon, who pushed the contest on blogs and social networking sites. The effort has led people in other rural communities to support the possible visit.
"Columbus has a population of 229, but really our constituency is the tens of millions of Americans who live in small towns across the country," said Dixon, who says he is a Democrat.
The month-long contest closes Wednesday, after which the Edwards campaign will announce the winner. Local residents have been trying to sweeten the deal, posting comments on the site highlighting the neighboring town's bed and breakfast and hair cuts that "cost less than $10, including tip."
- CNN Internet Reporter Abbi Tatton