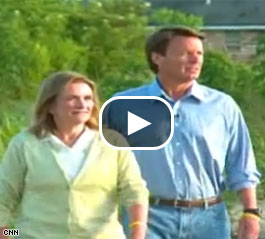 Watch CNN's Tom Foreman report how Elizabeth Edwards is taking a starring role.
WASHINGTON (CNN) - Elizabeth Edwards is back in the spotlight, again.
The wife of the Democratic presidential hopeful from North Carolina, John Edwards, is taking the starring role in a new campaign commercial for her husband.
"You're not going to outsmart him. He works harder than any human being that I know, always has, " says Edwards, in the television ad now playing in the crucial early primary state of New Hampshire.
For Edwards, who's battling cancer, it's another moment in the spotlight. Earlier this week she fired away at Hillary Clinton, telling the on-line magazine Salon that "sometimes you feel you have to behave as a man and not talk about women's issues. I'm sympathetic; she wants to be commander in chief. But she's just not as vocal a women's advocate as I want to see. John is."
"Despite her battle with cancer, Elizabeth Edwards refuses to be a shrinking violet," says CNN Political Editor Mark Preston. He also says "this was definitely a shot across Clinton's bow and there's no question Elizabeth Edwards is her husband's biggest political asset, especially when it comes to women voters."
The most recent CNN-Opinion Research Corporation national poll of Democratic women finds Hillary Clinton far ahead of John Edwards. The Senator from New York was the choice for president among 45 percent of the Democratic women polled June 22-24. Senator Barack Obama was second with 25 percent and Edwards far behind at 11 percent.
This is not the first time Elizabeth Edwards has gone after Clinton. Last October she compared herself to Clinton, saying "we both went to law school and married other lawyers, but after that we made other choices. I think my choices have made me happier. I think I'm more joyful than she is." After her comments made national headlines, Edwards reached out to apologize to Clinton.
Edwards is also speaking out without telling her husband in advance. She got into an on-air battle with conservative pundit Anne Coulter earlier this year, after Coulter fiercely criticized her husband. Edwards later told CNN that "I didn't talk to John about calling Ann Coulter. I got on the phone when I was watching her."
Last month Edwards also surprised her husband by publicly splitting with him over gay marriage. While in San Francisco, Edwards told reporters she supported gay marriage. Her husband, along with most of the other Democratic Presidential candidates, doesn't go that far, and only supports legalizing civil unions among homosexuals. John Edwards told our Anderson Cooper earlier this week that he wasn't aware of what his wife was up to. "I didn't know," Edwards said. But it appears he's just fine with his wife speaking her mind, telling us that "nothing about Elizabeth surprises me. You can't control what she says, nor would I ever want to, that's one of the great things about her."
- CNN Deputy Political Director Paul Steinhauser