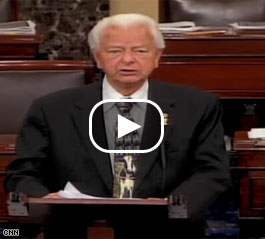 Watch Byrd's speech Thursday.
WASHINGTON (CNN) - Fallout intensified Friday from NFL star Michael Vick's indictment on charges linked to dogfighting, a practice that a longtime U.S. lawmaker denounced as "barbaric" on the floor of the U.S. Senate.
Democratic Sen. Robert Byrd of West Virginia, who has addressed lawmakers often about his love for animals, shook with emotion during a forceful condemnation of dogfighting.
"Barbaric," shouted the senator. "Let that word resound from hill to hill and from mountain to mountain and from valley to valley across this broad land. Barbaric!"