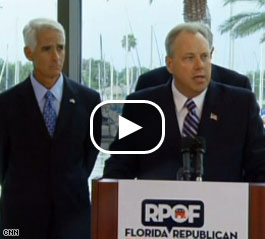 Watch Republican Party of Florida Chairman Jim Greer, right, and Florida Gov. Charlie Crist, left, announce the upcoming CNN/YouTube GOP presidential debate.
WASHINGTON (CNN) - Florida Gov. Charlie Crist announced Friday that the Republican Party of Florida will team up with CNN and YouTube to host a groundbreaking GOP presidential debate in September at the Mahaffey Theater in St. Petersburg.
For the first time in Republican presidential debate history, voters will utilize state-of-the-art video technology to directly question the presidential candidates on the pressing issues of the day.
"We are pleased that our Republican presidential candidates will have another opportunity to discuss the issues that are important to Florida's voters," Crist said. "This is a testament to the leadership of the Florida Legislature, which wisely made Florida a more important player in the presidential nominating process by moving Florida's primary date forward."
Crist is referring to Sunshine State lawmakers' decision to move its primary up to Jan. 29, 2008 – much to the chagrin of the Republican National Committee and Democratic National Committee. It will now be the largest early state to vote in the presidential primaries and serve as the gateway into Feb. 5, 2008 when as many as 20-plus states hold nominating contests.
Sen. John McCain, R-Arizona, immediately committed to participating in the debate.
"This debate is an unprecedented opportunity for people across the nation to ask the Republican presidential candidates where they stand on the issues that are important to them, using mediums that are integral to the 2008 presidential election cycle - CNN and YouTube," said Republican Party Chairman Jim Greer. "The debate is further evidence of Florida's growing and prominent role in the 2008 Presidential election cycle, and we are excited to partner with CNN and YouTube to bring the Republican Presidential candidates to viewers across America."
CNN/U.S. President Jon Klein noted that his network and YouTube has "created a one-of-a-kind format to enable American voters to pose their own questions directly to the Republican candidates themselves.
"We are grateful to the Republican Party of Florida and to Governor Crist for their partnership and for bringing the CNN-YouTube debate to this critical early primary state," Klein said.
CNN and YouTube are conducting a similar presidential debate using YouTube's video technology Monday night live from Charleston, South Carolina.