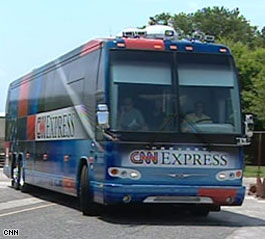 The CNN Election Express arrived in South Carolina Friday.
CHARLESTON, South Carolina (CNN) - The CNN Election Express is here.
The bus arrived on campus Friday afternoon at the Citadel, in Charleston, South Carolina, site of the CNN–YouTube Democratic Presidential Debate.
The Election Express, which is not your average bus, will play a crucial role in the production of this innovative debate. The bus, which is a working newsroom, television studio and transmission center, will be working overtime on Monday night at 7pm ET, when the eight presidential candidates clash. The Election Express will serve as a satellite feed point for CNN's coverage of the two hour debate, and all of the recorded YouTube questions will be transmitted from the bus.
The questions come from you. For the first time in presidential debate history, questions will come directly from the internet, submitted via the YouTube website. CNN's Anderson Cooper will moderate the debate.
- CNN Deputy Political Director Paul Steinhauser