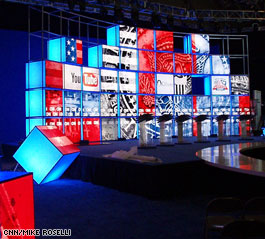 The stage is set for tomorrow's Democratic presidential debate.
CHARLESTON, South Carolina (CNN)– It's two days until show time and the stage is in the process of being set for Monday night's Democratic presidential debate.
There's an army of technicians working in concert to construct the stage and dress up the McAllister Field House, here on the campus of the Citadel, for the debate that CNN, You Tube and the South Carolina Democratic Party are teaming up to host.
Lighting and video technicians, stage carpenters, members of the CNN design team and field engineers, and a host of other workers are busy transforming the field house, which normally hosts basketball games, into a debate hall that will be seen by television viewers and computer users around the world.
Above me some 40 thousand pounds of lighting equipment is being set up on grids attached to the ceiling of the building. Riggers, who scale the tops of the field house, are finishing up connecting lights and cables to the ceiling grids above the stage. I'm sitting directly under a huge speaker as I write down these observations. You know what, maybe I better move.
Cameramen are setting up their equipment, and checking their shots. Ten cameras, both stationary and hand held, will be inside the hall to shoot the debate.
On stage right now, an honor guard from the Citadel is practicing a drill they will perform at the beginning of the debate. "Right face" commands the honor guard's leader. Now the six member team is marching off the stage. They will practice their drill over and over again.
Stage left and hanging from a grid attached to the ceiling is a giant high definition screen where the candidates and the debate audience will see the recorded questions. Each of the eight candidates will also have personal monitor in their podium on the stage.
The CNN director who will call the shots Monday night just walked on stage. She's checking her shots and the lighting. It's something she'll do a number of times between now and show time Monday night.
All this action began on Wednesday and will go through Monday afternoon, when the final touches will be applied.
- Deputy Political Director Paul Steinhauser