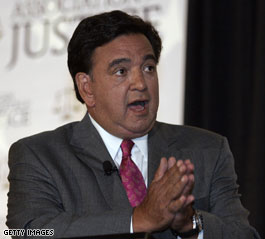 New Mexico Governor Bill Richardson
CHARLESTON, South Carolina (CNN) – Democratic presidential candidate and New Mexico Governor Bill Richardson touted his foreign policy credentials to a house of Democrats in the Charleston suburb of Mount Pleasant today in advance of tomorrow night's CNN/YouTube debate.
"Let's make this decision not based on who has the most money, or who has the best political pedigree, or two political pedigrees, or who is the biggest rock star or has the most glamour … although I'm working on it," said Richardson.
"It should be on vision, it should be on who can bring change, it should be on experience. And how about a president that knows a little bit about foreign policy, who knows a little about energy?," he said, elaborating on his experience as U.N. Ambassador and Secretary of Energy under Bill Clinton.
Richardson shook hands and spoke with about 75 area Democrats at the home of Robert Burton, a Richardson supporter from the East Cooper area of Mount Pleasant.
The governor, who is in single digits in South Carolina according CNN's most recent poll, said a strong showing in the state's primary would help him in a national election.
"South Carolina is a state that is moderate, I'm a moderate," said Richardson. "I need to do well in South Carolina because South Carolina is a state like New Mexico. We have a lot of challenges in South Carolina and New Mexico. And I need to show some strength in the South so that I can be electable in November as the nominee."
He added: "It's the kind of state that can warm up to an underdog like me."
Richardson acknowledged that making inroads among South Carolina's large African-American population could be a challenge.
"I've been attending services in African-American churches. I'm not going to concede that vote to Senators Clinton and Obama. They're probably the frontrunners in that vote, but there are a lot of other pockets of strength that I'm trying to attract," he said, such as rural voters and Hispanic voters.
- CNN South Carolina Producer Peter Hamby