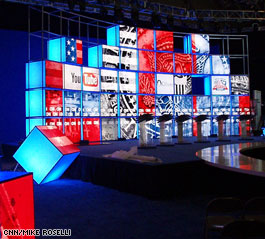 The stage is set for the CNN/You Tube debate / Photo: CNN's Mike Roselli
CHARLESTON, South Carolina (CNN)–The candidates are coming to town. Our CNN YouTube Democratic presidential debate's not until tomorrow night, but the some of the 2008 hopefuls are already in the area.
Senator Joe Biden's attending Sunday services right now at the Morris Brown AME Church in Charleston. And New Mexico Governor Bill Richardson meets and greets voters at two events today in the Charleston area. Tomorrow night all eight Democratic candidates will be on the campus of the Citadel, site of the debate, which will be moderated by CNN's Anderson Cooper. And for the first time in presidential debate history, all the questions will come directly from you, submitted via YouTube.
- Deputy Political Director Paul Steinhauser