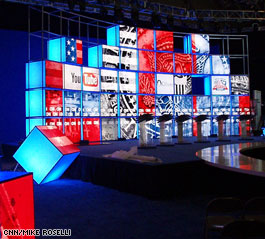 The stage is set for tomorrow's Democratic presidential debate.
CHARLESTON, South Carolina (CNN) - The CNN/YouTube Democratic presidential debate is only one day away, but the vetting process to determine which questions will be directed to the candidates is ongoing.
CNN's Anderson Cooper is right in the thick of the discussion along with a team of CNN producers and political researchers as he prepares to moderate this historic event.
"This really is a bottom-up process," Cooper said in an interview on CNN's Reliable Sources. "We've spent a week looking at these more than 2,000 videos and the best ones are bubbling up to the surface. That's the way it really is working."
For the first time in presidential debate history, YouTube's on-line video technology will allow people to directly ask the eight Democratic candidates the pressing questions of the day. Through Sunday afternoon, more than 2,500 questions have been submitted.
Cooper emphasized that what makes the format so compelling is that many of these questioners are dealing with these problems personally.
"I think people who have made these videos, what makes them so interesting, is clearly they're very personal," he said. "Many of them are very intimate. And these are people who are living the topic, who are not just asking a theoretical question.
He added, "You're actually getting a kind of window into people's lives. It's often the questions in their bedroom or their living room. There is an intimacy that you don't normally get and I think it adds another dimension to the debate."
Cooper said it will be part of his mission Monday to ensure that the candidates don't try to avoid answering the questions. "I want to make sure that the candidates honor these people by directly answering their questions," he said.
And where are these submissions coming from. CNN Senior Vice President and Washington Bureau Chief David Bohrman said that "for this debate, realistically, anyone in the country, in fact, the world, can get a question into this debate. And it's amazing to take a look at the 2,000 questions that there are. They feel very different than any town hall set of questions or any other debate questions I've ever heard."
- CNN Deputy Political Director Paul Steinhauser