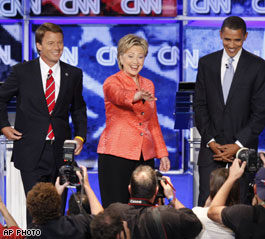 WASHINGTON (CNN) - When asked whether she considers herself a liberal at Monday's CNN/YouTube debate, Sen. Hillary Clinton, D-New York, said she prefers the word "progressive."
"I consider myself a modern progressive," said Clinton. "Someone who believes strongly in individual rights and freedoms, who believes that we are better as a society when we're working together."
Debate moderator Anderson Cooper followed up with Sen. Clinton asking, "so you wouldn't use the word 'liberal?' You'd say 'progressive?'"
Clinton nodded in agreement.
- CNN Political Researcher Xuan Thai