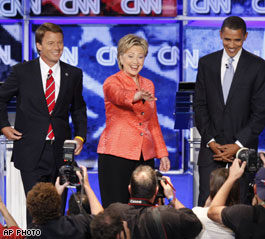 (CNN) - Who kept talking about the future? Who kept talking about the past? Who had the most harsh words for their fellow candidates? And who wins for politeness?
CNN Senior Political Analyst Bill Schneider has the numbers:
Bill Richardson uttered the phrase "What I will do" a total of 16 times, followed by Barack Obama (15 times) and Chris Dodd (11 times).
Hillary Clinton led the field in saying "What I have done" 11 times, followed by Joe Biden (9 times) and Dodd (7 times).
Clinton also wins the Miss Congeniality award - she led in complimenting the other candidates (6 times), followed by Obama (5 times) and Edwards (4 times).
"What do they have in common? They are all the front-runners," Schneider said. "They are all doing well. They can afford to be generous. There's no reason to attack their fellow candidates."
So, which candidates did attack each other?
"Actually, not many did," Schneider said. Mike Gravel led in putting down or attacking the other Democrats a total of four times. Biden and Dennis Kucinich tied for second place, with two times each.
"It wasn't that kind of a debate, because citizens were asking the questions," says Schneider. "They didn't invite attacks."
- CNN Associate Producer Stephen Bach