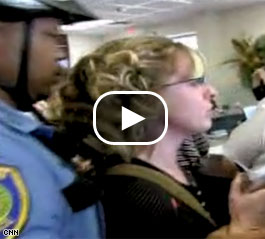 A protester questioned Thompson's conservatism Wednesday.
HOUSTON, Texas (CNN) – A woman screaming "you're not a real conservative, sir" was removed by police from a welcoming reception for likely GOP presidential candidate Fred Thompson Wednesday morning. A second protester was also taken from the room.
Houston police officers escorted the woman — as well as a man — from the hangar at Hobby Airport, where Thompson was shaking hands with a crowd of supporters. They were not arrested.
The woman questioned Thompson as he talked to reporters. She asked him why he was a member of the Council on Foreign Relations, and noted that the organization supported the North American Union with Canada and Mexico.
After the woman interrupted Thompson by questioning his conservative credentials, the likely candidate said, "Don't fuss at me. You asked me a question. Let me answer it." He told the woman, "I try to learn as much as I can from all viewpoints."
Later, she shouted at Thompson as the news conference ended. Police officers took her outside a fenced area near the hangar, and stood with her until the former Tennessee senator departed.
Editor's Note: In the comments section below (#4), the woman has identified herself as a member of the group "Houston 9/11 Truth." In a video of the incident linked on her blog, she is also heard charging the attack in New York on 9/11 was a "inside job."
- CNN Political Desk Manager Steve Brusk