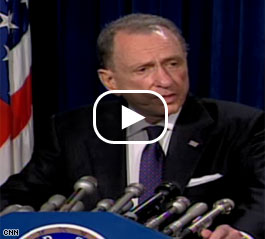 Watch Specter's comments Thursday.
WASHINGTON (CNN) – Sen. Arlen Specter, R.-Pennsylvania, said Thursday that Senate Democrats were just playing politics with their attacks on the Bush administration including their request for a special counsel to investigate Attorney General Alberto Gonzales.
"It's been a great fundraising device for the Democratic Party," Specter, the ranking member on the Senate Judiciary Committee, said during a press conference on Capitol Hill.
Specter also accused Sen. Chuck Schumer, D-New York, of having a conflict of interest because Schumer is both in charge of Democratic fundraising in the Senate and is the chairman of the Senate subcommittee whose Democratic members requested the special counsel investigation of Gonzales.
"Everybody's trying to top everybody else and they're reaching for the front pages," said Specter.
- CNN Associate Producer Martina Stewart