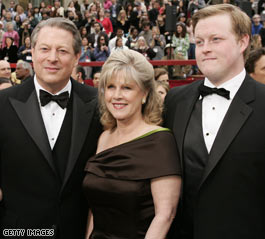 Al Gore III, right, appears with his father, former Vice President Al Gore, and mother, Tipper, at the Oscars in February.
LOS ANGELES (CNN) – Al Gore III pleaded guilty Monday to felony and misdemeanor drug possession charges stemming from his arrest earlier in July when he was pulled over for allegedly driving more than 100 mph in a Toyota Prius.
An Orange County Sheriff's deputy reported that he could smell marijuana when he approached the car. After conducting a search, the deputy found a small amount of marijuana and prescription pills - including Adderall, Vicodin, Xanax and Valium - all without a prescription.
Gore, 24, was charged with two felony counts of possession of a controlled substance, two misdemeanor counts of possessing a controlled substance without a prescription, one misdemeanor count of possession of marijuana and a traffic infraction.
Farrah Emami of the Orange County District Attorney's Office said the son of former Vice President Al Gore agreed to enter a 90-day residential drug treatment program.
Senior Deputy District Attorney Jaime Coulter told the Associated Press that if Gore successfully completed the drug treatment program the sentencing could be continued for another year and that charges may be dropped in 2009.
"At that point, he will be able to withdraw his guilty plea as if he never entered it," Coulter told the AP.
Gore's next court date is scheduled for February 7, 2008.
- CNN Assignment Editor Karan Olson