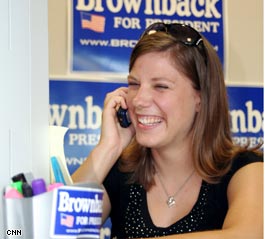 Brownback intern Monica Brown works the phones.
WEST DES MOINES, Iowa (CNN) - Sounds a bit funny at first listen, but it's for real. And it's a tactic that could pay off.
GOP presidential candidate Sam Brownback has about 45 interns at his Iowa headquarters. Twelve hours a day, six days a week, a lot of them do one thing. They call people in Iowa who, based on surveys, say they're already supporting a candidate OTHER than Sam Brownback.
"I see here that you're supporting John McCain, correct?" asked intern Kellen McBeth on the phone. "McCain has chosen not to participate in the straw poll, and we'd like you to show your support for his values by voting for Brownback."
The Ames straw poll is an unofficial test of the Republican candidates and an Iowan tradition. Busloads of party members, mobilized by the rival camps, descend on the town of Ames for a day of entertainment, political talk – and voting. And when top tier candidates decide not to participate - former New York City Mayor Rudy Giuliani was the first, followed by Sen. John McCain - it makes the outcome of the contest even harder to interpret. Nonetheless, Brownback's interns are offering free tickets to the event for anyone pledging to support to the Kansas senator. The tickets are $30 a piece, and campaigns get no discount as the event is a fundraiser for the Iowa Republican Party.
For the interns, the days are long, and they're bound to feel even longer when sitting in a folding chair with a cell
phone pressed to the ear. But their tenacity is apparent, despite the fact that some people simply don't want to talk to them.
"Sometimes it's a 'yea,' sometimes it's 'no,' but you do what you have to do," said intern Paul Crosby.
And that can be daunting – not least because Iowa voters are known to be hard to sway.
"Your responses matched up perfectly with Senator Brownback," said intern Jason Lavoie on a call. "Have you heard of Senator Brownback? OK, can I send you some info on–" The call appears to end. "[They] hung up. You get that sometimes."
But often, the message does get through.
"Generally it goes well, but some people don't go [to the straw poll] if their candidate isn't going to be in it," said MacBeth. "My job is basically to talk to McCain supporters...and sort of convince them, because McCain isnt particiapting, to support Brownback. They do share a lot of positions…pro-life, gay marriage, and victory in Iraq, and [I say to them] 'Well, you may support McCain, so you might as well support Brownback in the straw poll."
Brownback has made the abortion issue central to his Iowa campaign, and he's been relying heavily on his faith.  On a recent statewide trip, dubbed the "pro-life, whole-life" tour, he drew parallels between abortion and issues like the suffering in Sudan and terminating life when someone is in a vegetative state, which was brought to the forefront with the Terri Schiavo case.  Schiavo's brother, Bobby Schindler, even accompanied the senator, who says people shouldn't have their lives terminated artificially, or by humans.
Brownback also supported a bill proposing a Constitutional amendment banning gay marriage. On Iraq, he opposes immediate troop withdrawal or a timetable. Instead he says he "supports victory in Iraq" and dividing the country into three separate states.
However, the minutiae of policy can only be discussed on the phone for so long. A one-liner from one of the
interns is inevitable.
"I do encourage you to keep up on the issues because it really is important to have someone with more than just a name and a nice haircut."
Brownback's Iowa communications director John Rankin wouldn't say how many tickets to the poll they're promised people, or how many people on average become supporters of the senator via the phone. He would say, however, that they'd "exceeded [their] internal expectations."
-CNN Iowa Producer Chris Welch