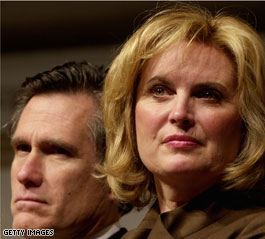 Mitt and Ann Romney
WASHINGTON (CNN) – The wife of Republican presidential candidate Mitt Romney is facing criticism from some cancer patients and survivors for saying in a magazine interview that, rather than continue living with multiple sclerosis, she once wished she could "just have cancer and die."
Ann Romney, who was diagnosed with the degenerative nerve disease in 1998, said in a recent interview with People magazine, "It wasn't as though I was suicidal, but I was at the point where I thought, 'Couldn't I please just have cancer and die?'"
The comment received an angry reaction from Leroy Sievers, a journalist who has been chronicling his own battle with cancer on National Public Radio.
"Cancer does not bring a quick death. Cancer is painful and debilitating," said Sievers on his "My Cancer" blog on NPR's Web site. "Cancer wreaks havoc on the life of anyone who has it and the lives of the people who care about them. Cancer twists the present and steals the future. Cancer hurts."
Many of the 100-plus readers who commented on Sievers' posting were also critical of Mrs. Romney's statements, though some were more charitable.
"Ms. Romney is to be forgiven. She is suffering, too. I'll bet we have all opened our mouths and said something we were sorry for later," said one reader.
Carolyn Weyforth, a Romney campaign spokeswoman, told CNN, "Mrs. Romney was recounting a very real and very difficult emotional reaction to the news about her disease. It's something that many people go through, and it's an honest reflection about a difficult period of her life. It's a reflection that has obviously evolved as she has come to terms with the disease."
- CNN Political Researcher Xuan Thai