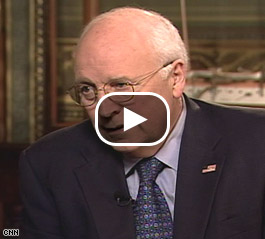 Vice President Dick Cheney.
(CNN)–Vice President Dick Cheney told CNN's Lary King Tuesday his thoughts on the Senate investigation regarding the firings of U.S. Attorneys. "With respect to the U.S. Attorneys, there has been, I think, a bit of a witch hunt on Capitol Hill as they keep rolling over rocks hoping they can find something," he said. "But there really hasn't been anything that has come up to suggest that there was any wrongdoing of any kind."
When asked his thoughts on the man at the center of the controversy, Attorney General Alberto Gonzales, Cheney was equally resolute. "Al's a good man, a good friend, on a difficult assignment," he said.
"Are you troubled by what appears to have happened, the appearance of him not telling the truth?" King asked. "Well, I don't want to get into the specifics with respect to his testimony and the questions that were asked. I know Al on a personal and professional basis and I hold him in high regard," Cheney replied. The Vice president again re-stated his support for Gonzales.
Cheney also discussed with King his role as President of the Senate.
The full interview with Vice President Cheney can be seen on "Larry King Live" at 9:00pm eastern Tuesday on CNN.
–CNN Political Desk Editor Jamie Crawford