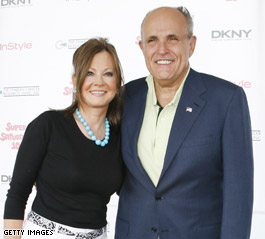 Giuliani's campaign struck back at a Vanity Fair article about his wife Judith.
NEW YORK (CNN) - If you're Judith Giuliani, Vanity Fair is not your best friend. An article in the magazine's September issue reads: "Terror Alert, Judi Giuliani." It goes downhill from there and it's got former Mayor Rudy Giuliani's camp crying "hatchet job."
"There are so many inaccuracies in that story," Mark McKeon, Rudy Giuliani's senior adviser told CNN, "so many innuendoes in that story that is so vile that it really isn't worth going into."
But Vanity Fair's Judy Bachrach stands by her story and every last unflattering detail.
"When the Giuliani people say that Vanity Fair or I've done a hatchet job, you have to consider the source," says Bachrach. "They are the kings of hatchets. They try to muzzle the press at every opportunity."
Despite the Giuliani campaign's uncooperativeness, Bachrach says she prevailed in writing "Giuliani's Princess Bride," referring to the tiara Judith wore on her wedding day and quoting an un-named former Rudy Giuliani aide who said, "Queen is her goal."
The former mayor stood up for his wife at a campaign event on Tuesday saying, "I think the article is a very incorrect article that has an enormous numbers of inaccuracies in it. And one of the unfortunate prices that families pay in a situation like this is that they get castigated, attacked, and most of the time reporters doesn't even ask about it."
But Bacharach said she tried to interview Judith Giuliani and was denied access. Through others, Bacharach says she determined that Mrs. Giuliani is an "opportunist" who went after a famous, married man, with kids – then Mayor Rudolph Giuliani – and "proffered her business card," flaunting their affair by appearing at New York City functions while then-Mayor Rudy Giuliani was still married.
Bacharach went on to write that Judith Giuliani is now enjoying the fame and wealth that accompanies being married to the former mayor, among the perks: a "full-time assistant" to style her hair, designer clothes, and when she flies, an "entire plane seat for Judith's 'Baby Louis'" – a Louis Vuitton designer bag.
The Giuliani camp says none of those allegations are true, including the full time hairdresser. As for whether any of this will hurt the campaign, the Giuliani campaign told CNN it will have no effect.
–CNN Correspondent Carol Costello