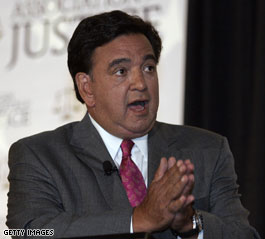 New Mexico Governor Bill Richardson
DES MOINES, Iowa (CNN) - New Mexico governor and Democratic presidential candidate Bill Richardson will tour southeast Iowa on Thursday for two days of events centering on energy. The campaign announced Tuesday that the former energy secretary will discuss his plan to boost domestic renewable fuel production and making America energy independent.
The eight stops of the tour are all being dubbed as "presidential job interviews" - Richardson's version of town hall meetings - and will begin in Eldridge, Iowa, on Thursday and conclude in Wapello on Friday.
–CNN Iowa Producer Chris Welch