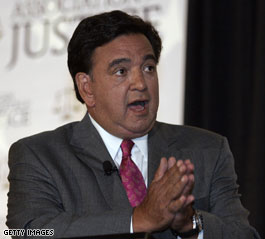 New Mexico Governor Bill Richardson
WASHINGTON (CNN) - For Bill and Barbara Richardson, a simple ride to school led to a lifetime together.
The Richardsons celebrated their 35th wedding anniversary on Sunday.
"Over the past 35 years Barbara has been my wife, best friend and my number one advisor," New Mexico Gov. Bill Richardson said in a statement. "She has stood by my side through it all and on this special day I thank her for her love and devotion. Truly, there is no luckier man. Barbara here's to another beautiful 35 years."
The couple met when Richardson was a senior in high school. Barbara saw Richardson in downtown Concord, Massachusetts and offered him a ride back to school. They've been together ever since.
–CNN Associate Producer Lauren Kornreich