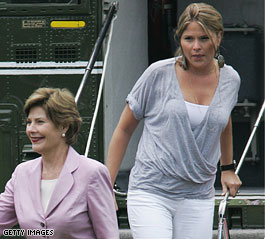 Laura and Jenna Bush are writing a book, USA TODAY reports.
WASHINGTON (CNN) - The first lady is set to become a first author.
Laura Bush, along with daughter Jenna, are in the process of writing a children's book about a child who does not like reading, USA TODAY reports.
The picture book, to be published next spring by HarperCollins, is inspired by the teaching experiences of both Laura and Jenna. The elder Mrs. Bush is a former public school teacher, while the younger Bush taught in Washington, DC after she graduated college.
The official announcement is expected to come later Thursday.
"It's a book that I've always wanted to write," Laura Bush told USA TODAY. "And it's fun to be able to do it with your daughter."
Laura Bush also told the paper she expects the task to be difficult.
"In a picture book, there are so few words, so each word has to be perfect," she said. Jenna and I know that, and we know that each page should have something to make you want to turn the page. That's the challenge."
Jenna Bush has previously tried her hand as a writer, completing a yet-to-be published book last winter about her experiences working for UNICEF.