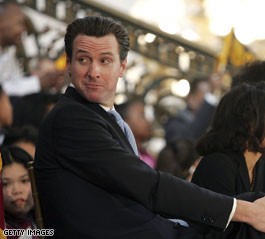 Newsom endorsed Clinton's White House bid Friday.
WASHINGTON (CNN) - San Francisco Mayor Gavin Newsom endorsed Hillary Clinton's presidential bid Friday, the latest in a string of prominent Californians who are throwing their support behind the New York Democrat.
"Hillary Clinton has been fighting for progressive values for decades and she has shown us all that she is ready to lead our country as we face enormous challenges," Newsom said Friday in a joint appearance with Clinton.
Newsom will also become a co-chair of the campaign.
Los Angeles Mayor Antonio Villaraigosa officially endorsed Clinton's bid last May. The senator has also won endorsements from California Sen. Dianne Feinstein, California Rep. Jane Harman, and Assembly Speaker Fabian Nunez.
Newsom and Villaraigosa have both been the subject of recent controversy, each admitting earlier in the year to extramarital affairs.
California, one of the many states to move up its primary to February 5, will likely play a key role in determining the presidential nominees.
- CNN Ticker Producer Alexander Mooney