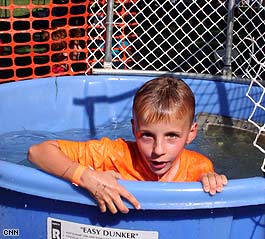 AMES, Iowa (CNN) - Symbolically, that is.
You know you're at a Republican sanctioned straw poll when people wearing masks with the likenesses of Bill and Hillary Clinton and Al Gore are thrown into a tub of water.
It's all part of the festivities at GOP presidential candidate Mike Huckabee's tent at Saturday's unofficial Republican test in Ames, Iowa.
"In trying to see what makes for a fun atmosphere, we thought of a dunk tank," said Huckabee's New Hampshire field director Periklis Karoutas.
"Usually with a dunk tank you get a clown, but someone had the idea of putting a democrat up there, so Bill, Hillary, and Al came up."
They called it 'Dunk a Democrat,' and Senator Sam Brownback's tent also included one.
The fun started with adults wearing the masks and taking turns in the tank, but the kids soon couldn't take it anymore and had to try it out themselves.
It is, after all, about 100 degrees here in Ames.
- CNN Iowa Producer Chris Welch