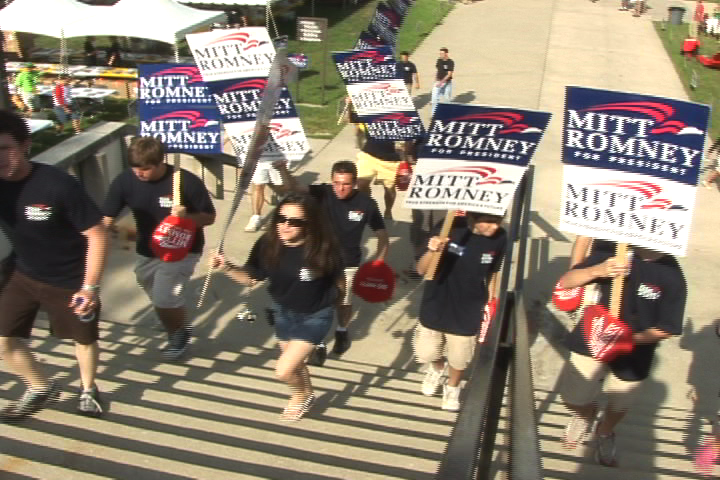 AMES, Iowa (CNN)- Down in the bowels of the Hilton Coliseum, on the campus of Iowa State University, a choreographed political dance is taking place.
All of the Republican candidates taking part in Ames straw poll spoke today inside the packed coliseum. Minutes before a candidate took to the podium hundreds of his supporters would march onto the floor of the arena. At the same time hundreds of supporters for the candidate who just finished speaking march out of the arena.
I witnessed the arrival of the Brownback gang as the Tommy Thompson corps were departing. It all worked like clockwork and there was no ill will among the camps.
I took an informal poll among the political reporters in the arena covering this crucial early Republican straw poll and here are the very unofficial results of the candidates' speeches.
Mitt Romney received the most applause. That makes sense since the former Massachusetts governor spent the most money here in Ames, both to bus in supporters and pay for their entrance fees, and also on infrastructure. Romney's tents are the most elaborate of any of the candidates. Romney is expected to win this straw poll. The question is by how much Romney wins.
The punchiest and most electric speech, according to our informal poll, goes to Mike Huckabee. The former Governor of Arkansas is a minister, and he's very comfortable speaking in front of large audiences.
One thing's for sure. With temperatures outside coming close to the century mark, inside is the place to be here in Ames.
- CNN Deputy Political Director Paul Steinhauser