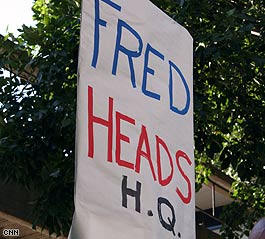 Thompson had his supporters in Ames, Iowa on Saturday.
AMES, Iowa (CNN)- He's not here. He's not even a formal candidate as of now. But Fred Thompson does have a presence at the straw poll in Ames, Iowa. Unofficial supporters of the former Senator from Tennessee and television and big screen actor have set up a booth here on the campus of Iowa State University.
I spoke with one of the supporters manning the Thompson booth. He is a college student from Texas. He says he has no connection what so ever to Thompson's testing the waters committee.
He did tell me that business was good and that he and his fellow Thompson supporters manning the booth distrubted 15,000 Thompson bumper stickers today. I can't verify that number in any way, but I did notice a number of people come up to the Thompson booth to grab a bumper sticker or button.
Thompson's expected to formally announce his candidacy for President sometime after Labor Day.
- CNN Deputy Political Director Paul Steinhauser