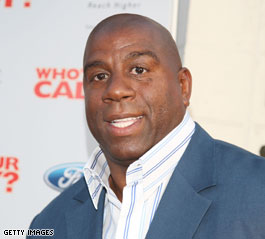 'Magic' Johnson will host a fundraiser for Clinton next month.
WASHINGTON (CNN) - Basketball legend Earvin "Magic" Johnson is set to throw a fundraising bash for White House hopeful Hillary Clinton September 14, six days after TV host Oprah Winfrey plans a similarly star-studded event for the New York Democrat's chief rival, Barack Obama.
The Clinton campaign tells CNN the event, also to be attended by musician Quincy Jones and music producer Berry Gordy, will be held at Johnson's home.
The competing fundraisers highlight both candidates' courtship of prominent African-Americans as they battle for their party's nomination.
In a statement, Johnson said Clinton "has the experience and knowledge to help lead our country," according to the Associated Press.
Last May, Oprah told Larry King she chose to support the Illinois senator because she knows him "personally" and knows "what he stands for."
"I think that what he stands for, what he has proven that he can stand for, what he has shown, was worth me going out on a limb for. And I haven't done it in the past because I haven't felt that anybody — I didn't know anybody well enough to be able to say, I believe in this person," Oprah said.
In the same interview, Oprah said her endorsement of Obama does not suggest she is against Clinton.
"I think I've said this before, and it's true. Because I am for Barack does not mean I am against Hillary or anybody else. So the fact that I would endorse Barack Obama and the fact that I would support Barack Obama, I have not one negative thing to say about Hillary Clinton," she said.
- CNN's Alexander Mooney and Lauren Kornreich