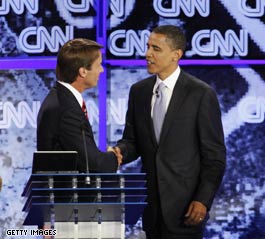 John Edwards said he was 'open-minded' to having Barack Obama as his vice presidential running mate.
JEFFERSON, Iowa (CNN) - At a stop on his "Fighting for One America" bus tour Monday, Democratic presidential candidate John Edwards was asked whether, if chosen to be the nominee, he would consider tapping Democratic opponent Barack Obama as his vice presidential running mate.
"I am open minded about it, to answer your question," said the former senator from North Carolina. "I have made what, at least for now, would be a short list for me of people to consider, just as I've done the same thing for each cabinet position."
So who would Edwards pick? Well, when it comes to selecting people for an administration, he says they wouldn't necessarily have to align with his political party.
"I know this is not the greatest thing to say in front of Iowa Democratic caucus-goers, but they don't have to be a Democrat. I'm looking for the best people I can find."
Edwards went on to say that he's not looking for "'yes people' like George Bush has around him."
The stop in Jefferson is part of the campaign's seven-day "Fighting for OneAmerica" bus tour, which kicked off earlier in the day in Des Moines. Edwards outlined a plan to "improve care for injured Iraq and Afghanistan veterans." He also called on the Iraqi parliament to "end their month-long vacation early."
"More than 30 American soldiers have been killed in Iraq this month," Edwards said in a statement.
Monday morning's bus kickoff was planned as a family affair that was to include wife Elizabeth and their two youngest children, but, according to the former senator, Elizabeth was not feeling well and was forced to skip the first event.
"Elizabeth ate something at breakfast this morning that didn't agree with her," Edwards said.
Mrs. Edwards, however, was back on the trail with her husband later in the day, even introducing him at their stop in Jefferson. She appeared healthy and had no problem visiting with dozens who stuck around to chat after the
event.
"I was a little gimpy this morning, but I'm feeling good now," she told CNN. "I brought some food with me from North Carolina that I should have refrigerated. It's my fault, my fault."
Sen. Edwards said that his wife's sickness Monday morning is the reason he was more than an hour late for the kickoff event. It also forced the campaign to cancel their appearance at the Iowa State Fair, which was next on their agenda for the day.
-CNN Iowa Producer Chris Welch