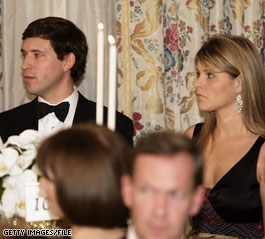 Jenna Bush and Henry Hager in 2005.
WASHINGTON (CNN) — President and Laura Bush's daughter, Jenna, is engaged to be married, the White House announced Thursday.
Jenna Bush, 25, is marrying Henry Hager, 28, a former White House aide who used to work with Karl Rove, and is a graduate of the University of Virginia School of Business, according to the Associated Press. Henry Hager's father, John, is the chairman of the Virginia Republican Party, and the former lieutenant governor of Virginia.
The two met during the 2004 presidential campaign, but were not first spotted together until the president's inauguration in 2005, according to Style Magazine.
The first lady's office tells CNN the proposal occurred last night. The two are currently vacationing together in Maine.
No word if Hager asked the president for permission before the proposal.
No wedding date has been set.