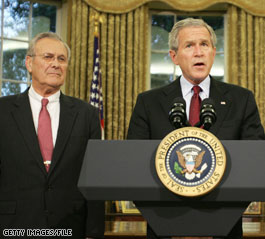 Bush announces Rumsfeld's resignation November 8, 2006, the day after the midterm elections.
WASHINGTON (CNN) - CNN Pentagon Producer Mike Mount has obtained a copy of former Defense Secretary Donald Rumsfeld's resignation letter. (View letter [PDF])
The letter is actually dated November 6, 2006 - the day before the midterm elections - even though the resignation was not announced until November 8.
President Bush has previously acknowledged the decision for Rumseld to leave was made before the midterm elections.
"The reason why [Rumsfeld didn't resign before Tuesday] is I didn't want to inject a major decision about this war in the final days of a campaign," Bush said the day of the resignation announcement.
The word "Iraq" does not appear anywhere in the letter.